Test Pattern — a live multimedia performance by Ryoji Ikeda (Japan) at the opening of the Media Forum at the MIFF
Garage Centre for Contemporary Culture, June 24, 2011
Organizers: MediaFest, MediaArtLab Centre for art and culture
Co-organizers: Moscow Museum of Modern Art, Garage Centre for Contemporary Culture
Supported by: Japan Fondation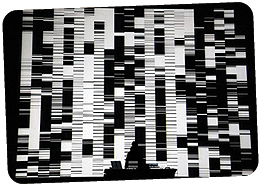 This year's Media Forum programme will be opened by Ryoji Ikeda (Japan) — one of the most talented sound artists, a star of the international media art festivals. Since 1995 he creates sound installations, records albums and gives live performances at major art events, such as Sonar (Barcelona) and DEAF (Netherlands), or the opening of Transmediale (Berlin). Ikeda has worked together with the choreographer William Forsythe and the architect Toyo Ito. He received the Golden Nica prize at the Austrian Ars Electronica, his works are exhibited at the Tate Modern, Centre Georges Pompidou and other world's major museums and art centres.
The 2011 Media Forum is dedicated to the expanded cinema theme. It includes projects defining or erasing the difference between film and art aesthetics. One of the main explanations of what this difference actually is states that cinema makes its audience think only about the film's contents, while video artists emphasize and draw the viewer's attention to the process of visual information's perception. Something similar also happens with sound art.
If video artists make the viewer concentrate on the categories of linearity and sequence of narration, various forms of narration or a complete absence of the narrative structure, sound artists achieve the same with the sense of hearing. Unlike musicians, they do not work with melodies or harmonious sound sequences; they are engaged in structuring the "sound space". This was a name suggested in his time by John Cage instead of the traditional term "music", and from that moment artists started to work with hearing as a comprehensive system of world perception, one of the most important for a human being. That's why Media Forum organizers thought that a performance by one of the most important sound artists will not only be an impressive prelude to this year's events, but also a necessary parallel to what goes on in other spheres of media creativity, where the idea of expanding the limits of perception and erasing borders between various communicative channels is also being realized.
The title of this Ikeda performance — Test Pattern (2010) means a system, transforming any kind of information into the form of a bar code, that is, a form convenient for automatical reading by various devices. Initially to achieve this result, the bar code inventor Norman Joseph Woodland has adapted the technology of an optical sound track, used for sound recording in cinema for it. The sound is of primary importance to the sound artist, but with the majority of people the visual system takes precedence as a source of information on the outside world. That's why Ikeda transforms the audio information into some kind of a visual code, which the viewer can read with his eyes. Materializing sound into visual images Ryoji Ikeda actualizes the hearing organs of the audience and makes them analyze the very act of audio information reception; he induces hearing and vision to work together as a united information channel.
---
The Garage Centre for Contemporary Culture
Obraztsova str, 19/2, bld. 1
http://www.garageccc.com/